In science, my class has been learning about space. We had to make a 3-D model of a space shuttle using this website called Tinkercad. It is a 3-D designing software that helps you design anything you would like in a fun way. We had to use Tinkercad to design a space shuttle that we named and designed ourselves and our school will vote for their favourite design. This is the space shuttle I designed and the name of it is "Universe":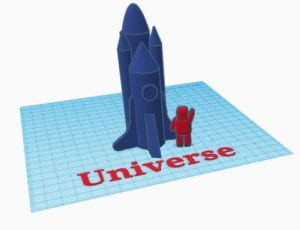 When I started designing my space shuttle on Tinkercad, I accidentally started designing a rocket ship instead of what I was supposed to be designing so that made me extremely aggravated. I then deleted EVERYTHING and then started from scratch. 
I have never used Tinkercad before and I think that now I know how to use this website that I will be able to accomplish other assignments in different classes with much more interest. 
I think for next time the only thing I could make more interesting was the creativity of my name choice, and the detailing I put into my actual design. 
Thank you for reading my post and have you ever designed a space shuttle before?